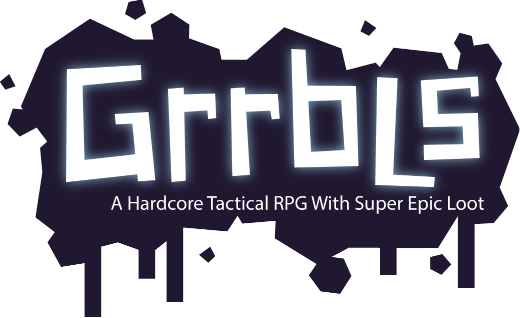 A Ray Of Light At The End Of The Tunnel — Massive Update
A Ray Of Light At The End Of The Tunnel — Massive Update
In my last update, the world was in a different place and we weren't all trapped inside! But things have been progressing rapidly and I didn't want to write anything until I was certain we had hit a certain milestone and it's now been hit. The game is now playable internally and over 100 cards have been designed, coded, and fitted with art. There's also a lot of new animations and gear sets. The internal game engine has also been enhanced to handle some of the most complicated design problems that some card effects were causing.
Things are moving very well and I want to post an update on how the game mechanics are looking and how the art is progressing.
Mechanics wise the game is focused on entirely on 2 areas: the dungeon and the town. The town is where you upgrade and view your collection. The dungeon is where you kill monsters, build your deck, and earn tokens to upgrade the town.
As of right now we have 3 working Grrbl classes which have 30+ actions each, and we have 12 working monsters (and 3 bosses) which have their own small set of actions they take. There are also 5 gear sets for each Grrbl class, and 1 for each monster. And there is close to 15 working unit effects (things like poison, bleed etc) and 15 working perks.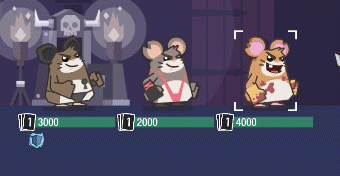 The 3 bosses we have currently are the Dorc Boss, Samurhino Boss, and Hampire Boss:
They also have full gear sets and their own action set and perk.
There is also a system that combines loot and challenge into one nice package. There is now something called "Loot Score":
The higher the loot score the better the possible drops you can get. And of course, certain collectables (like bobble heads) will only be found at higher and higher loot scores. There will eventually be monsters and other unlocks that can only be obtained from higher loot scores. You will notice there are two numbers in the the above loot score image and that's because the bottom number is the total loot score. Throughout the dungeon (and as part of player progression) you will unlock bonus loot score. This increases the total loot score but without a difficulty penalty so getting bonus loot score is always a good thing. The higher the loot score, the tougher the monsters — so difficultly can go up during a run if you are feeling your run is going well. If you are getting the drops you like and your deck strategy is working you will have the chance to raise the loot score (and thus difficulty).
As far as dungeon progression, as of right now I think 3 fights then a boss fight feels like a good pace. The pattern is battle – mystery rooms – battle. The 3rd boss is the final boss and you will win the dungeon if you can defeat it. There will be an opportunity to use your now fully geared Grrbls and (hopefully) stacked deck to taken on even tougher opponents after you beat the final boss — but I will save those details for later. Progression in the dungeon is shown in the top right corner:
There is a ton of work going into the loot system and given drops a lot of meaning. Currently we have perk, gear, and action drops (more types coming later). When you defeat a monster you will get an action drop (note: the card art is a little out of date but you will get the idea).
When you win a battle you will get a drop for either perks or gear (and of course we will have different rarities, and there will also be bonus rarities which modify the cards as well but I will share those details later [just know as of right now there are 3 different aspects of a drop that each have their own rarity drops that combine together so it will be possible to find something with super rare drop combos]):
Hopefully this gets you excited for Grrbls and if you can't wait to play (and you are reading this around the time it's posted), give me an email at AnthonyUccello [ at ] Gmail [ dot ] com (gotta hate those spam bots!) and I'll see if I can get you in as an early tester.
If you have any questions or comments feel free post them below!
Also make sure you sign up your email and join us on discord